Publications and Ebooks
Take the Pulse of Your Workforce During COVID-19
The sustainability and survival of your manufacturing enterprise, particularly in these challenging times of COVID-19 response and recovery, largely depends on the performance, productivity, and personal engagements within your manufacturing workforce. How are your employees responding to COVID-19 in the workplace? How is your company instilling ongoing trust, confidence, and active participation? How is your leadership team collecting and delivering continuous feedback, and what tools are in place to manage and track growth and changes over time?
---
COVID-19 Recovery Assistance for Manufacturers
COVID-19 has challenged the people, products, production, and processes of small and mid-sized manufacturers across southwestern Pennsylvania. As the immediate response has eased, and the transition into the reopening and recovery phases has begun, the recovery roadmap for your manufacturing environment starts with strategic planning and partnership.
At Catalyst Connection, we've spent the last 30 years partnering with manufacturers to guide them in business strategy and modernization—without the fear of business overhauls. Our goal is to equip manufacturers with the strategic expertise, support, and partnership needed to advance capabilities, maintain a competitive edge, open up new channels, attract and retain new workforce talent, and more, to enable effective COVID-19-response and recovery, while taking advantage of new business opportunities. Most importantly, we are committed to doing so in ways that feel natural, achievable, and sustainable to your company and your way of doing business, during COVID-19 and after.
---
Lead Generation for Manufacturers
For small and mid-sized manufacturers, the novel coronavirus changed businesses in ways we could never have imagined. We know that both challenges and opportunities lie ahead in responding to and recovering from COVID-19, particularly when it comes to leveraging marketing to maintain your existing customer relationships and generate the leads you need to keep your manufacturing enterprise thriving.
---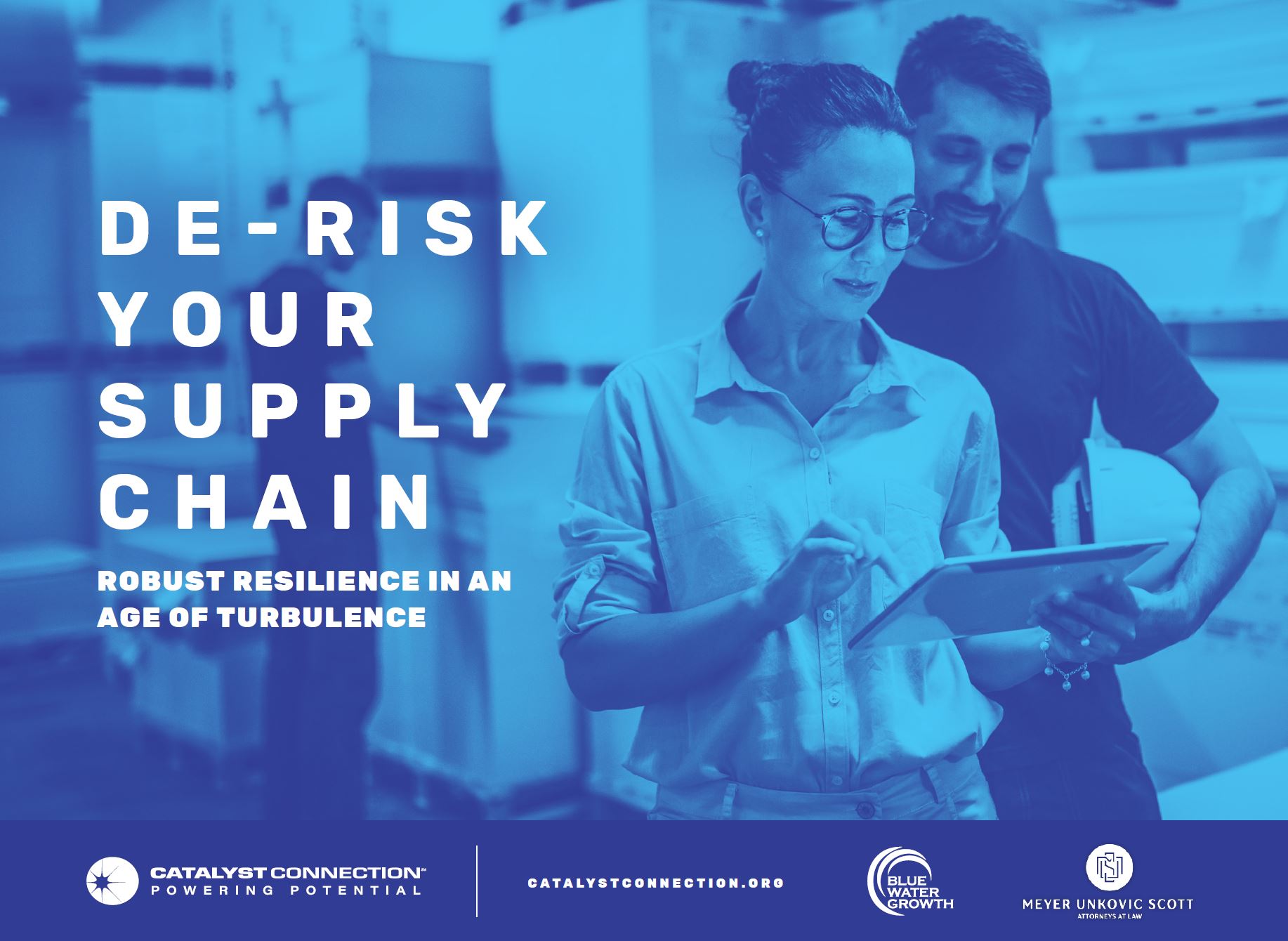 De-Risk Your Supply Chain
Whether you're ready or not, changes are coming to your supply chain. The current environment requires planning and preparation—and there is no room for error. Now, more than ever, you can't afford to be caught off guard or play catch-up with your competition.
That's why Catalyst Connection has compiled the information, resources, and strategies to guide our region's manufacturers through supply chain changes and challenges.
---
COVID-19 Back-to-Work Playbook
There's no room for error in returning to work during the COVID-19 crisis. When health, safety, and lives are on the line, it's critical to get it right the first time. That's why Catalyst Connection has compiled the information, resources, and strategies to guide our region's manufacturers in moving forward in the safest ways possible.
In the era of COVID-19, returning to work is necessary, but the idea of how to create and sustain safe and healthy manufacturing environments is filled with apprehension and uncertainty. It doesn't have to be.
---
2019 Catalyst Connection Annual Report
Catalyst Connection: Powering the Potential of Manufacturing
Industry 4.0 technologies, based on a solid foundation of continuous improvement, company culture and leadership, are unlocking manufacturing business potential and improving manufacturing performance across the region. Catalyst Connection recognizes that innovations in technology are happening daily; and is assisting manufacturing leaders identify, evaluate and implement new technology that aligns with business strategy, reduces risk, addresses workforce opportunities and has a high return on investment. We are committed to serving manufacturers that are ready to invest in themselves via a transformative process, while always using their vision for their future as our guidepost for change.
---
2018 Catalyst Connection Annual Report
Catalyst Connection Celebrates Industry 4.0 – A Bright Future
It was not too long ago that Pittsburgh was firmly positioned as the steel city, in both the practical output of the economic product, and in the national conscience that viewed the skyline with smoke colored glasses. Now, buoyed by strong partnerships with excellent higher education institutions and a thriving medical community, Pittsburgh is nationally ranked as one of the most desirable places to live and work. As Catalyst Connection enters its fourth decade of promoting, providing support, and strengthening manufacturing in Southwestern Pennsylvania, we are excited to continue the positive dialogue around Pittsburgh while addressing the ways in which the region still has room to grow and embrace the future as an innovative and global hub for advanced manufacturing.
---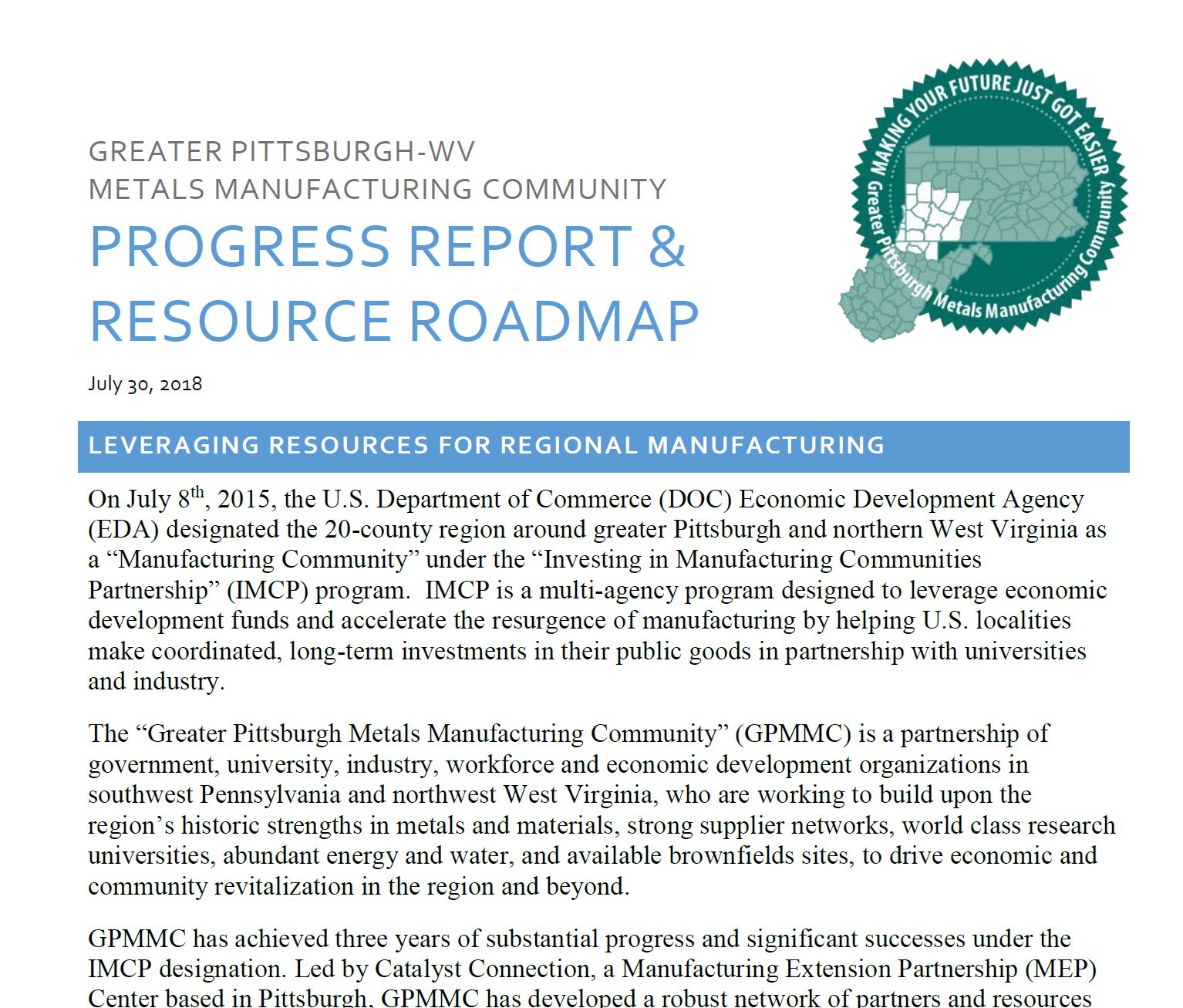 Greater Pittsburgh-WV Metals Manufacturing Community Progress Report and Resource Roadmap
The "Greater Pittsburgh Metals Manufacturing Community" (GPMMC) is a partnership of government, university, industry, workforce and economic development organizations in southwest Pennsylvania and northwest West Virginia, who are working to build upon the region's historic strengths in metals and materials, strong supplier networks, world class research universities, abundant energy and water, and available brownfields sites, to drive economic and community revitalization in the region and beyond.
---
Manufacturing Employment Demand Study:
Catalyst Connection initiated the "Making Your Future Manufacturing Employment Demand Study" to support manufacturing job growth in Southwestern Pennsylvania and to better understand the current and projected demand for workers and the skill sets sought after by the regions' employers. Key goals of the study were to determine if there is an increased need for: investments in workforce development, improvements in immediate employability skills, change in perceptions of manufacturing careers, and improved employer practices to attract and retain a skilled and qualified workforce. The Employment Demand Study was conducted during the period of May – June, 2018.
---
US Senate Committee on Finance – Testimony of Petra B. Mitchell, President & CEO, Catalyst Connection:
Petra Mitchell provides an overview of the MEP program, the challenges that small and medium sized manufacturers are facing, and the role that the MEP program and Catalyst Connection are playing in helping to address those challenges. The US Senate Committee on Finance was held on Friday, February 16, 2018.
---
2018 Manufacturing Scorecard – Full Report:
The Pittsburgh Regional Alliance and Catalyst Connection releases the 2018 Manufacturing Scorecard for southwestern Pennsylvania.
---
2018 Manufacturing Scorecard – Summary:
The Pittsburgh Regional Alliance and Catalyst Connection releases the 2018 Manufacturing Scorecard Summary for southwestern Pennsylvania.
---
Capturing the next economy: Pittsburgh's rise as a global innovation city:
Pittsburgh's innovation economy is strong and growing, but city leaders can do more with its existing assets to compete globally and capitalize on the region's growing innovation clusters, according to a new report from the Anne T. and Robert M. Bass Initiative on Innovation and Placemaking at the Brookings Institution. The culmination of an 18-month study, "Capturing the Next Economy: Pittsburgh's rise as a global innovation city" examines Pittsburgh's unique opportunity to become a top global destination for technology-based economic activity and as a key part of Pittsburgh's efforts to become a world-class innovation city.
---
MEP – Making an Impact on U.S. Manufacturing:
Catalyst Connection is part of the national Hollings Manufacturing Extension Partnership (MEP). Since 1988, MEP has worked to strengthen U.S. manufacturing. It is part of the National Institute of Standards and Technology (NIST), a U.S. Department of Commerce agency. Through its collaborations at the federal, state and local level, MEP centers in every state work with manufacturers to develop new customers, expand and diversify markets, adopt new technologies, and enhance value within supply chains. As a public-private partnership, MEP delivers a high return on investment to taxpayers. For every one dollar of federal investment, the MEP national network generates $17.9 in new sales growth for manufacturers and $27.0 in new client investment. This translates into $2.3 billion in new sales annually. And, for every $1,501 of federal investment, MEP creates or retains one manufacturing job.
---
Proof that DDI's Leadership Development Pays Off:
DDI published this report, PROOF That DDI's Leadership Development Pays Off, that identifies the quantitative results of companies who participated in DDI trainings. This report is the world's largest aggregation of impact studies and analyses on the effectiveness of a single leadership development program: DDI's Interaction Management® (IM®). The data-based evidence captured is an "insurance policy" to customers that IM® will positively impact their leaders, their teams, and the entire organization!
Catalyst Connection is an official educational channel partner of Development Dimensions International (DDI). We are certified to bring their world-class leadership content to manufacturing companies in southwestern Pennsylvania. We include DDI content in many of our Organizational Development services, including: Leadership Essentials, Executive Leadership Coaching, 360 Feedback, Success Profiles, and our Emerging Leaders in Manufacturing program.
---