Digital Bridge Podcast Series
The Catalyst Connection Digital Bridge Podcast Series explores Pittsburgh's Industry 4.0. The Digital Bridge is hosted by Catalyst's Matt Holjes to explore the intersections of leading-edge technologies in the manufacturing setting. Catalyst Connection provides consulting and training services to small manufacturers in southwestern Pennsylvania, accelerating revenue growth and improving productivity.
Episode 1: Augmented and Virtual Reality in Manufacturing
Catalyst Connection's Matt Holjes teams up with TechVibe Radio's Jonathan Kersting to explore augmented and virtual reality in the manufacturing setting. They talk to Karen Alexander of XR Connected, one of the most respected authorities on the technologies. She will detail how they are being used in everything from assembly to training. Listen here.
---
Episode 2: Cybersecurity for Manufacturers

Catalyst Connection's Matt Holjes and TechVibe Radio's Jonathan Kersting
talk about the basics of cybersecurity with Leia Shilobod of InTech Solutions. Leia saves small businesses and mid-market firms from hackers and keeps them compliant by delivering enterprise-class IT security solutions. She is also author of "Cyber Warfare: Protecting Your Business From Total Annilihation."  Listen here.
---

Episode 3: KCF Technologies
KCF Technologies develops and commercializes products and solutions for industry and the military. The company specializes in wireless sensors, energy harvesting, underwater navigation and smart material devices. Its vision is to be a leader in the development of federally-funded technologies and bridge the gap to successful commercial products by establishing strategic partnerships. Learn more at www.kcftech.com.  Listen here.
---
Episode 4: Lojic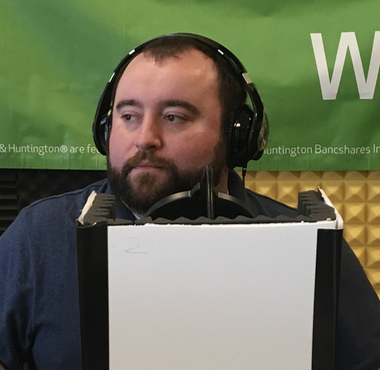 Discover how Lojic makes software for manufacturers. Lojic is a full service software development and services company geared towards the manufacturing industry. Manufacturers concentrate on making their business processes as lean as possible but often their software and systems are the one thing that is holding them back. Learn more at https://lojic.us. Listen here.
---

Episode 5: Siemens and Industry 4.0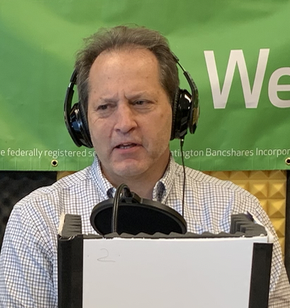 Mike Holtkamp, Digital Enterprise Account Executive at Siemens, talks about the company's commitment to Industry 4.0 Discover what it expects out of its suppliers, the introduction of AR/VR technologies and more! Listen here.
---
---

Episode 6: Exploring Digital Twin Technology

Simwell's Jon Santavy goes into detail around all aspects of the Digital Twin Technology. Discover how it takes simulations to a whole new level and can save manufacturers time and money across the board from product development to shop floor setup. Listen here.

Episode 7: Rhabit's Tech Captures Employee Feedback

Kevin Kelly of Rhabit overviews his company's powerful technology that makes it easy to build a culture of feedback. Rhabit combines the latest research in organizational psychology with human-centered software to unlock the power of continuous employee feedback. Find out how manufacturers can use this technology to better manage their workforces. Listen here.
---

Episode 8: Game-Changing Talent Strategies

Livia Macedo of DDI talks about top strategies for manufacturers to build and maintain their workforces. She also details how a manufacturer can begin building a talent supply chain. Macedo will also address the importance of having manufacturing leaders focused on Industry 4.0 Listen here
---

Episode 9: Robotics and Automation in Manufacturing

Catalyst Connection's Matt Minner joins Matt Holjes and Jonathan Kersting to talk about robotic and automation in manufacturing. As a Senior Consultant, Matt Minner provides project management across various project areas, as well as provides consulting services on technology projects including Roadmap to Growth, Technology Selection, Strategic Planning, Automation and Robotics Implementation, and more. In addition, he manages the team's third party relationships on projects. Listen here.

Episode 10: Premier Automation

Premier Automation is an engineered solutions company that specializes in providing automation, drive and electrical control solutions and services to industrial markets. Find out how Premier Automation offers cost effective, industry specific technology solutions to help its customers increase their industrial productivity, efficiency and overall systems performance. Show hosts Matt Holjes and Jonathan Kersting talk to Eli Evankovich and Brent Bregar about success strategies and pitfalls to avoid when manufacturers deploy automation on the shop floor. Listen here.
---
Episode 11: Rewyndr's Technology Aimed at Efficient Training

Craig Waller of Rewyndr talks about the unique technology platform that helps manufacturers train workers. Rewyndr software uses images in a novel way to present instructions to workers at the time of need. With remarkable clarity workers have access to up-to-the minute detailed guidance on specific processes on specific machines. Listen here.
---
Episode 12: Vigilant Technologies Prevents and Predicts Workplace Injury

Andy Chan of Vigilant Technologies talks about his technology solutions that promote, track and predict safety on the manufacturing floor. Find out how Vigilant prevents injuries and illnesses before they happen. Plus Andy will detail how its technology is being used in the COVID-19 Pandemic. Listen here.
Sponsored by: