What are you doing to protect your employees while keeping your supply chain effective?
What are you doing to protect your employees while keeping your supply chain effective?
With panic shopping resulting in empty shelves at the local stores due to COVID-19 virus, it has become apparent that manufacturing supply chains are essential in these times. In order to restock the shelves and allow people to get the products they need, manufacturers have to continue to operate. Manufacturers don't have the luxury of being able to work from home or work virtually; it requires them to be on-the-job, ready to go to perform their functions.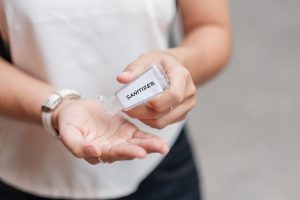 Even for simple, necessary products, a team of workers must put their fears away and show up to work. Take hand sanitizer, for example: Hand sanitizer requires an oil and gas company to supply raw materials for plastic, a cracker plant to produce plastic pellets, a tool and die manufacturer to make a mold, and a plastic facility to mold the bottle and cap. Finally, the chemical company can mix and produce the gel to go inside.
Here are 5 things that manufacturers can do to keep necessary facilities running in an effective but safe way.
Try to prevent the virus from entering the facility.
The three most common indicators of COVID-19, the illness caused by the coronavirus, are elevated temperature, coughing and difficulty breathing. Observing these symptoms, and of course, sending anyone home that appears to be showing symptoms is your first line of containment.
2. Modify production schedules.
When modifying schedules to accommodate fewer people in any given workspace, it is important to manage output expectations. However, these strategies can help you avoid completely closing down. Consider splitting work into smaller shifts with fewer machines or employees operating at any given time, reducing the amount of hours for all employees without laying anyone off entirely, and staggering breaks and lunchtimes to limit close interactions.
3. Keep people clean and sanitized.
This seems to be a no-brainer, but a conscious decision to wash your hands periodically and after each movement around the facility can reduce the virus's spread. Think about mandating hand washing before and after using the bathroom, taking breaks, and attending meetings, but also having disinfectant for the employees to use frequently. Put hand sanitizer at every workstation to be used before and after machine touches, and create cleaning stations that include rubber gloves, disposable coveralls, and 70% alcohol solution for cleaning, disposable rags or towels, etc.
4. Thoroughly clean high-traffic areas.
Ensure that employees are wiping down door handles, computers, touch screens and hand tools at shift change and at break times with disinfectant. Commonly used areas should either be cleaned regularly or avoided altogether. Operator controls should be cleaned at every single interval. Make sure employees know how to thoroughly clean these areas without damaging any electronics! See the U.S. Food and Drug Administration 21 CFR 211.67 for clean room practices.
5. Follow the CDC's recommendation for safe working distances.
At this time, the recommended safe distance for working is six feet apart from another human. Stay up to date with the evolving suggestions here: https://www.cdc.gov/coronavirus/2019-ncov/index.html.